34th Annual Free Thrower's 2013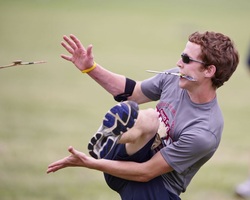 The 34th annual Free Throwers boomerang tournament featured mostly sunny skies and a high-temperature of 82 degrees. Peak winds on the day were 11 miles an hour in the afternoon, and only 8 mph during the morning events. The nearly ideal conditions featured just enough shifts and puffs to keep the throwers on their toes. The tournament returned to Smith Park after several years at the Polo Fields on Route 42.

Congrats to Logan Broadbent of Canton Ohio in 1st place at the 34th Annual Free throwers boomerang tournament in Delaware Ohio. Logan took four firsts and two seconds to score 8 points in winning the trophy! Second place went to tournament host Chet Snouffer with a first, two seconds and three fifths to score 20.5
points. Canton's Gary Michael Broadbent was 3rd overall with 29.5 points. George Essig of Saint Louis finished with a first place in Aussie round to take 4th place overall with 30 points, just half a point ahead of Jason Smucker an Ohio native now living in Atlanta.

The First Place Trophy was donated by Bill Glover~ a beautiful handcrafted and handpainted Michael Jordan boomerang, signed by Glover and tournament host Snouffer, often referred to as "The Michael Jordan of the boomerang sport". In all, 18 throwers, including 3 new college-age throwers coached by Gregg Snouffer celebrated the day in style.

In the Beginner competition, first place went to Delaware's Nick Pierce, followed by Evan Omler in 2nd, just one point off the pace. Delaware's Dylan Bivens was 3rd, Kian Dart-Snouffer was 4th, Eli Gephert, 12 year old cousin of Adam Stankiwiecz, was 5th and Roger Armstrong from Chicago was 6th.

With fully one third of the field comprised of Beginner throwers, we hope everyone can see the importance of developing new talent in your area, and not just throwing for ourselves. The sport will grow as veterans bring in new throwers and expose them to the sport! Thanks to everyone for coming! See you next year for the 35th Annual gig!!
---
2012 Free Throwers Results

2012 Tournament Results The Delaware Boomerang Tournament (in Ohio) was tremendous fun on Saturday! Many thanks to Chet Snouffer for hosting and running a great tournament! After three event, there was a 3-way tie for first place between Chet, Adam, and Logan. In the end, Chet broke the tie and ran away with it all. And Adam showed what can happen when you live with Gary all summer long by giving a very commanding performance, taking second place overall. The wind conditions were typical for a mid-west tournament: blustery and variable. Chet's weather station was consistently measuring periods of sustained winds in the 8 to 12 mph range. Of course there were windows of opportunity, but the wind did a good job of frustrating everybody (except Chet!) at some point during the day. The scoring spreadsheet is attached and the results are summarized below.
Stay Rad, Jason Smucker

Final results:
Place Points Thrower
1 19 Chet Snouffer
2 28 Adam Stankiewicz
3 28.5 George Essig
4 31 Jason Smucker
5 32 Logan Broadbent
6 39 Gary Broadbent
7 42.5 Mark Legg
8 44 Kenny Barr
9 56 Tom Howman
10 57.5 Clayton Hundley
11 58.5 Laura Smucker
12 68.5 Isaac Syler
13 70.5 David Hirsch
14 80.5 Bill Rusky
15 81 Patch Houser
16 87 Joe Tinney
17 94.5 Bob Foresi
For those who are interested, here are the scores for the top 5 finishers in each event. Trick Catch/Doubling Points Score Name 1 70 Jason Smucker 2 61 Adam Stankiewicz 3 59 Gary Broadbent 4 58 Logan Broadbent 5 57 Mark Legg Fast Catch Points Score Name 1 27.54 Chet Snouffer 2 29.00 Tom Howman 3 33.97 Logan Broadbent 4 34.00 Adam Stankiewicz 5 35.34 Jason Smucker Endurance Points Score Name 1 43 Chet Snouffer 2 40 Logan Broadbent 3 30 Adam Stankiewicz 4.5 28 George Essig 4.5 28 Mark Legg MTA 100 (Best 3 out of 5 catches) Points Score Name 1 91.24 George Essig 2 87.07 Mark Legg 3 82.24 Kenny Barr 4 81.42 Gary Broadbent 5 71.24 Chet Snouffer Accuracy (10 Throws) Points Score Name 1 57 Jason Smucker 2 52 Adam Stankiewicz 3 50 Chet Snouffer 4 47 George Essig 5 44 Laura Smucker Australian Round Points Score Name 1 58 Logan Broadbent 2 56 Chet Snouffer 3 49 Adam Stankiewicz 4 47 Clayton Hundley 5 40 Mark Legg
2011 Free Throwers Results

2011 Tourney Results Individual Tourney Results 2011
23 throwers came from Georgia, Texas, Massachussetts, Illinois, Saint Louis, and even the Buckeye State came to the 32nd annual Free Throwers' Fling. Mark Legg stormed out of the gate, winning the first two events only to run into freaky light and variable winds which dumped his Enduro rangs, crashing him to 18th in the event. He roared back in every event left, making off with the most hardware, but it was Dan Johnson and his consistently excellent throwing that won the day. Logan Broadbent was on fire as well but he and DJ and Chet the Jet (who was lingering in third) all threw in the 50's in Trick Catch, and then Logan won Aussie and MTA to make a strong run at Dan Johnson who never folded and won the overall. Top 5 were Dan Johnson, Logan Broadbent, Mark Legg, Chet Snouffer and Chicago Bob. Temps topped out at 88°, winds maxed out at 10! The average wind speed was under 5 mph all day but the shifts and thermals made it trickier than you'd think.

2010 Free Throwers Results

2010 Free Throwers Results The 31st Annual Free Throwers' Tourney was held Saturday and Sunday September 4 and 5, 2010 in Delaware, Oh at the Cashman Farm Polo Field. Saturday we ran Long Distance. Logan Broadbent set a new US record of 162 meters out and back with a complete return. He threw a Manuel Schutz carbon fiber Voyager. It was 69°, winds west averaging 12 mph with gusts to 24. The wind at the time was 15 mph. His record throw was in the first round. During the day he threw further but without the required accurate return.

On Sunday, the individual tournament was held, with Harald Steck winning 4 of 6 events to edge Chicago Bob and Chet Snouffer who tied for second. Mark Legg was 4th, and Gary Broadbent 5th. Logan Broadbent held the lead after 3 events but suffered a deep gash to this throwing hand during MTA as he chased a Manu 2 blade into the corn field. He also rolled his ankle as well. Limping and with a modified grip, Logan suffered in Aussie and then was unable to compete in FC and Endurance, finishing in 9th place. We wish Logan the best in recovery and wish he had been able to finish as there was a tight 4 way race for the lead at the time.